For Muslim women, the hijab is beyond a piece of clothing — it is a divine instruction.

However, because of the religious affiliation to the hijab, most people tone down how they wear it or what they wear it on. Wearing the hijab and looking classy are not mutually exclusive. Irrespective of the size of hijab you wear and the job you do, you can still be on fleek.

Vary your colors

Don't just stick to one color of hijab, especially black. Even if you do not want something flashy, there are some color shades — carton brown, navy blue, onion purple, grey, burgundy, maroon — that you can still rock without calling attention.

Keep it clean and ironed

Ladies who drape the complete full-length hijab should be most conscious of this. A rumpled hijab is an instant turn-off.

Owing to the length and size, this class of hijabs gets dirty easily, especially bright colored ones, and they get rumpled even by just sitting down. It would be good to wash and iron after daily use.

Make it match

Dear sisters, using the hijab is not an excuse to make colors riot. Variety is the spice of life. Match your hijab to the color of your skirt, bags or shoes. For sisters that use socks, match it with your gown or skirt.

Try multi-colors

A piece of hijab does not necessarily have to be mono-colored. You can blend two matching colors or color shades to sew a piece of hijab. Talk to your fashion designer and make it happen.

Change your style

If you wrap your hijab, it is best that you change the wrapping style. Ready-to-wear hijabs also come in different styles—double layer, capped, sleeved, V-shape, round. There are YouTube videos on how to style your hijab.

Reason with the season

Be conscious of the color and material of hijab you use depending on the season.

Go for bright and cotton materials during the dry season to avoid excess perspiration and discomfort. Darker colors and thick materials are good for the cold.

They keep you warm and cozy.

Pick some pins

Hijab pins and brooch are readily available adornments to use in styling your hijab.


---
Also in Hijabi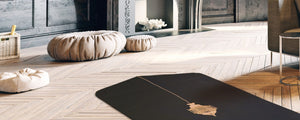 Treat yourself to this elegant centerpiece of faith, or wow a special friend or loved one with it as a gift. 
As the prophetic saying goes, "God is beautiful, and he loves beauty." Add a new prayer mat to your collection that exemplifies this beauty today.